Produkter
AZD-xRPNx DC(AZD-KRPN)
Classification:
Product name:
AZD-xRPNx DC(AZD-KRPN)
---
Product types:
Drives, Drives – Stepper
---
Technology & Profiles:
PROFINET
---
Company:

ORIENTAL MOTOR CO.,LTD.
Illustration: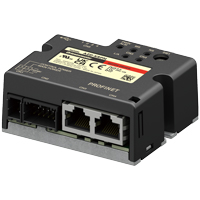 Product description:
The AZ Series is a system consisting of a stepping motor based motor and driver.
A unique control system combining the benefits of open loop control and closed loop control is adopted.
This system constantly monitors the motor position and automatically switches between two types of control depending on the situation.
Normally it drives in synchronization with commands under open loop control to provide high response.
In an overload condition, it continues the operation while correcting the motor position under closed loop control.
● Battery-Free: Position information is managed by a mechanical absolute sensor.
● Desired parameters can be read and rewritten via PROFINET.
● Compact design smaller than a box type driver
Dimensions: 30 × 69 × 56 mm [1.18 x 2.72 x 2.2 (in.)]
Mass: 0.11 kg (0.24 lb.)
● Compatible with Battery Drive
● Operation Functions: Positioning Operation, Speed Control Operation, Return-to-Home Operation
● Monitor Function: Temperature (motor, driver), Position, Speed, Motor Load Factor, Travel Distance, etc.
- Equipped with "Information Function" that can be used for predictive maintenance.
● Product Specifications:
- Main Power Supply: 24/48 VDC
- Control Power Supply: 24/48 VDC
- Standards: CE, cUL, RoHS